Inside & Out Vintage: Rolex Datejust Ref. 1601
How I got this watch: Theo & Harris emailed me to ask if I'd like to review two watches. They sent me this watch and a Tudor Prince Oysterdate which wore for two weeks. This is not a paid review.
I can't believe how much I liked this watch
As I spoke about in Vlog #022, I've never been much of a Rolex guy. Whether it was because I was selling competing brands or plain ol' ignorance, I didn't much care for the Crown. So when I unwrapped the Datejust that Theo and Harris sent me for review, I realized I had never worn a Rolex for more than a few minutes. A brief stint at a Rolex A.D. had given me the occasional moment of trying on a Daytona or Submariner but this Datejust would be the first time wearing a Rolex. Not whilst I'm looking over my shoulder to see if my manager is coming round the corner, but as a daily wear.
As I mentioned on Wednesday, I've never been into fluted bezels or two-tone watches; imagine my shock when Theo & Harris send me a two-tone Rolex Datejust with fluted bezel. I thought to myself, "Jeez, I'm really going to have to dance around the fact I can't stand either of these two things"
Luckily, I don't have to do that.
The Rolex Datejust is the most ubiquitous Rolex dress watch. The Cellini is more elegant and the Daydate more expensive, but the Datejust is the Rolex dress watch to most people. Recognizable from across the room by virtue of its fluted bezel or magnification cyclops, the Datejust is part of popular culture.
This isn't your usual two-tone Datejust, this is a steel and pink gold Datejust. A touch more copper to the alloy in the foundry and what used to be bright yellow morphs into the deliciously warm tones of pink/rose gold. It's a subtle difference that you might not catch during an initial glance, but it is more noticeable the longer you stare at the watch. Overtime the bezel faded ever so slightly, but the hands and hour markers are still as perfectly pink as they were when the watch was sold new. Not to harp on about this pink gold, but until you hold the watch in your hands and allow the light to play off it, you can't appreciate how cool it looks.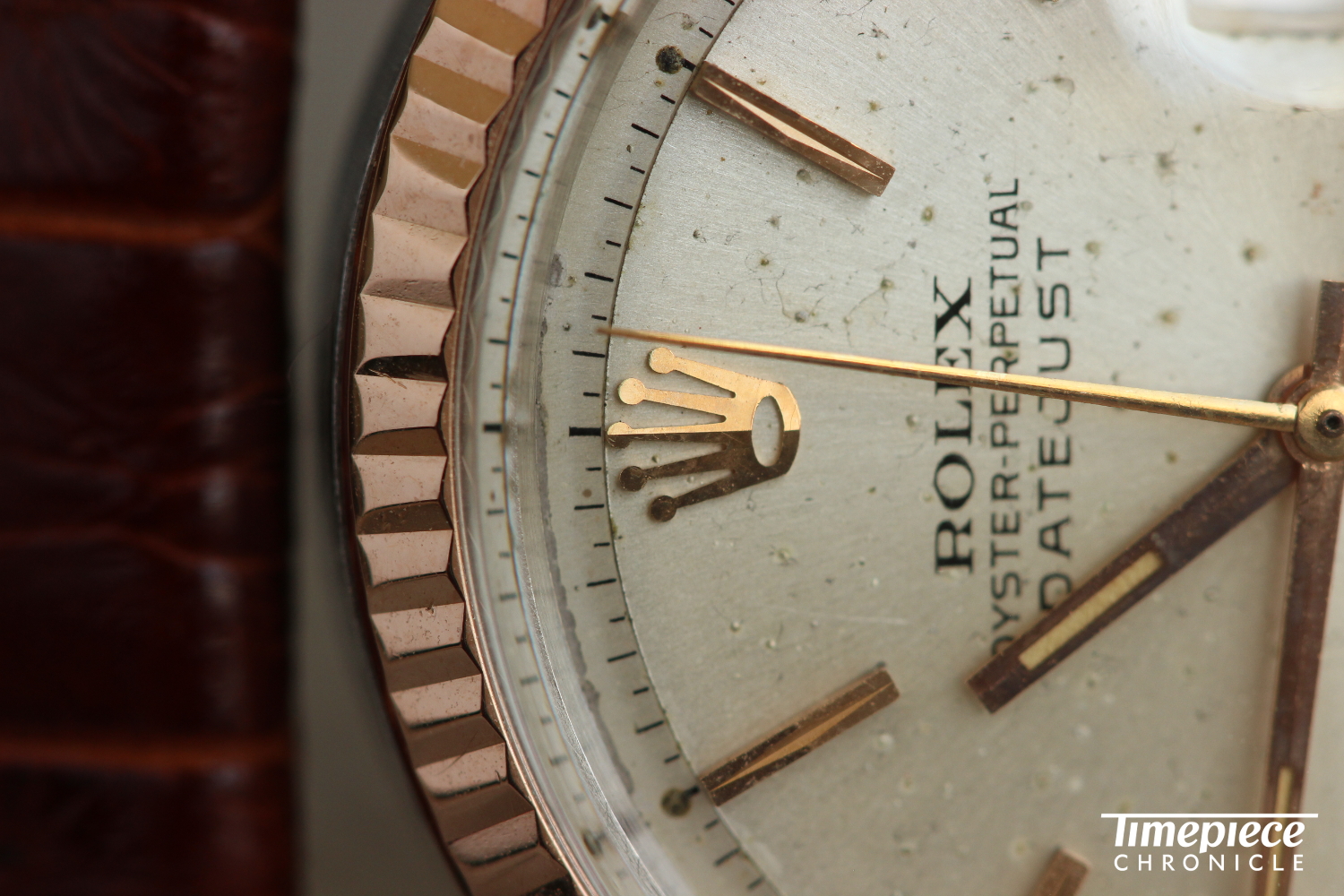 The hour markers, oh those hour markers
I love these hour markers.They reward a more intense viewing past checking the time. What appears to be a plain rectangular strip of gold has a faceted groove running down the center. The groove, shaped like a elongated diamond, catches the light and whilst it doesn't provide as much visibility as as lume, its another detail that I love about this watch. Say what you will about Rolex, but they knew how to design a watch down to the smallest elements better than almost any other brand in this price range.
This may change when Theo & Harris put this watch up for sale but the watch came on a brown alligator strap with gold plated buckle. Even though I had the briefest of moments with this watch, I can attest that if there isn't a bracelet, a Datejust only be seen on alligator. Typing that sentence makes me cringe and makes me hope that first time readers don't assume I'm some kind of snob who demands that my Rolex timepiece only be worn with the finest materials made from rare animals (I'm not. Please stay). Keep your perlon and canvas on a Submariner, the Datejust requires a little more civility.
Not that this watch used to be a slouch in the sports department.
When new, this watch was water resistant, nay, waterproof to 100 meters thanks to its Twinlock crown. Few dress watches can say that. The Oystercase is the crowning achievement in Rolex's history, in my opinion. It's remained practically unchanged for 90 years and has been used on chronographs, divers and dress watches with aplomb.
This Ref. 1601 is not a quick-set date. I had this watch in rotation enough that it was only ever a day or so behind, but that feeling of skipping one day too far was cringe inducing. I wore it out once during the two weeks with the date wrong and I could feel the looks of people around me, judging me for having the wrong date magnified for all to see. Ok, maybe that was all in my mind but I'm a pedant for accurate date windows. It didn't take more than a few minutes to wear out my fingers to rotate past the entire month back to the correct date but that was time that I'd rather be wearing the watch, not setting it.
As this is a vintage watch, that means it has traits and quirks unique to this watch only.
That beautifully warm pink gold bezel has a few scratches between the fluted edges. Nothing major but visible under a loupe or under close inspection by the naked eye. The Twinlock Rolex crown wound well and was study when changing positions, but there is a ding on the strip beneath the Coronet. The case itself has has few minor dings but is free from scratches and the lugs were unpolished, at least to my eye.
The hands and hour markers are all in fantastic condition and are all original to the watch. All the original lume pips are still intact although they don't give off much of a glow anymore. The stripes of lume on the hands are in great condition with very little aging or deterioration present. The dial does have some mottling that runs across it and the area near the T Swiss T beneath the 6 o'clock has some damage to it, although the text is still legible. Whether these minor defects are enough to sway your decision to buy this watch is your own decision.
The last two weeks have been an experience. They say that owning a Rolex is a milestone in life, a sign that you've made it. Whilst I didn't own it, even wearing it for 14 days made me feel something. I felt good wearing this watch, I wanted people to ask me about it, I wanted to take it off my wrist and show it to friends and family, to push it right up into their face and say "I get it...I get what its all about. Do you? Let me help you to understand!". If that's what I'm like after two weeks, imagine what I'd be like if I actually owned it?
To enquire about this watch, visit theoandharris.com or email info@theoandharris.com